Your private jet to Ibiza
Ibiza, the most famous Balearic island, is where luxury resorts, nightclubs, fine restaurants and boutiques abound, and its easy to reach with an all inclusive private jet service.
Milan to Ibiza
€8,550 | 100′
Olbia to Ibiza
€12,850 | 80′
Munich to Ibiza
€8,550 | 180′
Nice to Ibiza
€9,850 | 85′
Paris to Ibiza
€18,250| 105′
London to Ibiza
€10,150 | 140′
Barcelona to Ibiza
€6,500 | 50′
Lisbon to Ibiza
€8,250 | 130′
Geneva to Ibiza
€10,250 | 150′
Zurich to Ibiza
€10,450 | 160′
Ibiza is a small island, part of the Balearic islands, located in heart of the Mediterranean Sea. While started out as a port town, Ibiza is now known far more for the natural beauty, amazing weather and fun attraction, that turned the island a hotspot for european getaways. Although nightlife may be the first thing people think of when they think of Ibiza, it's really the beaches that get everyone there in the first place.
This island is unique because it offers diffent kind of beach setting; some parts of the coastline offer mile long stretches sandy beaches with luxe hotels and other parts of the coastline offer rugged, rocky beaches, the perfect spot to reach with a private yacht. Whatever is your idea for the perfect beach time, Ibiza's warm sun will make your day.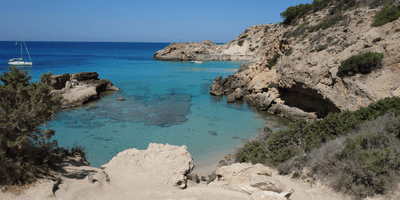 During summer Ibiza hosts some of the world's top DJs and exclusive party. Head to Pacha, famed world over for its VIP appeal and often home to DJs such as Pete Tong. Another top club is Privilege, home of the best dance floor in the world as well as swimming pool. If late-night clubbing is not your thing, you can find many illustrious bars including the cocktail bar Aguas de Ibiza and the rooftop bar at the ME Ibiza Hotel, with stunning panoramic views and infinity pool.
If you search for the best spot where to shopping, Ibiza is increasingly seeing designer names on the high street, for boutiques clothing and jewellery, La Marina in Ibiza town is the place to be. But if you search something different, head to the Hippy Markets, in Es Cana and San Carlos: a celebration of the bohemmian and artsy crowd that bring the island to the global consciousness back in the 1960s.
Best Hotels and Restaurants
Seafood is obviously top of the menu in Ibiza, especially at El Bigotes, where even the King of Spain has once turned away for not booking in advance. Tropicana Ibiza Beach Clube, instead, is a hip but elegance choice for his top-quality menu, that can be also served to your boat with the private dinghy service for food delivery. In Ibiza town, the Ibiza Grand Hotel is one of the most elegant choices, a few minutes from the town center.
Further five-star choices in Ibiza Town include the Boutique Hotel Casa Munich with a wellness centre and glorious peace and quite, the Sir Joan Hotel and, located in the Unesco-listed Dalt Villa, the mirador de Dalt Vila Hotel. If you search for a more quite and peaceful location, you can choose the east side of the island, seats of some luxurious villas such as Roca Llisa, located near to a golf club.
Your exclusive experience in Ibiza
We can make your trip a remarkable fully immersion in Ibiza. We offer booking service to the most luxury accomodation, transfer planning from/ to the hotel and making reservation for restaurants and other entertainment.
Plan with us your next luxury trip to Ibiza.