Your private jet to St. Tropez
Our premium private jet services let you reach St. Tropez, the French Riviera's most charming town, without stress.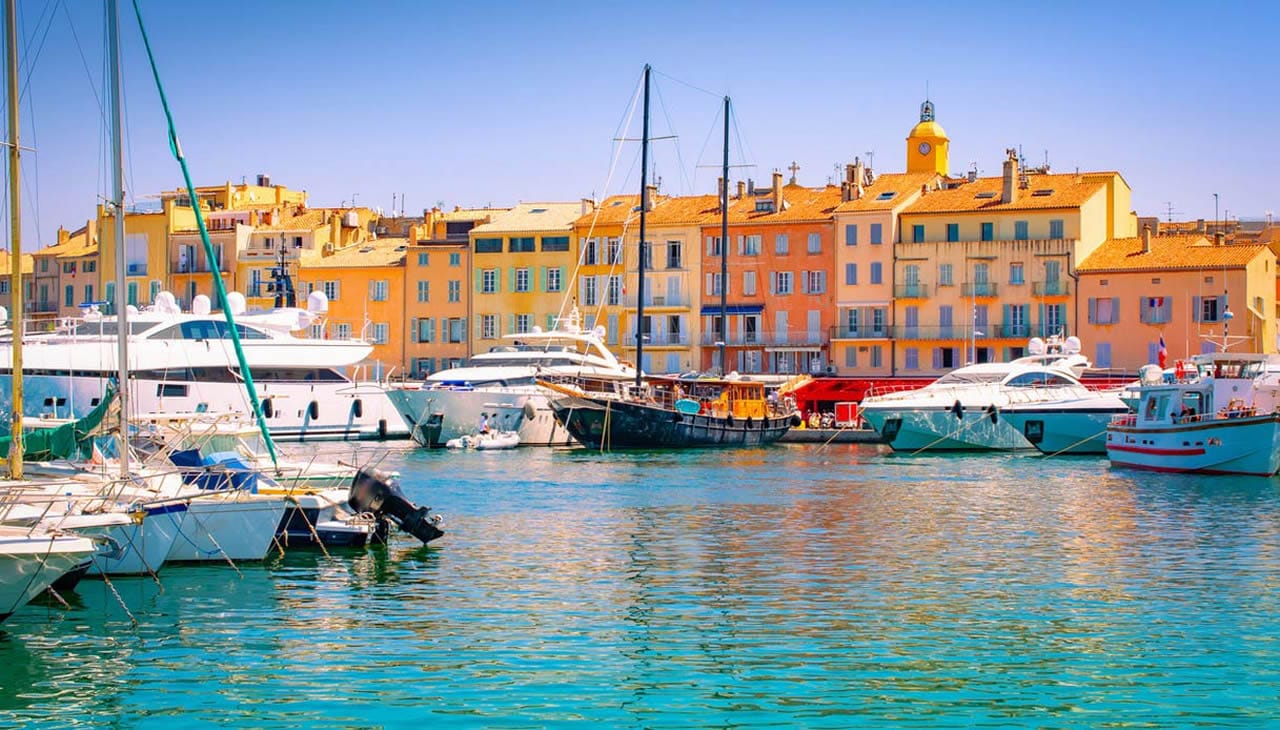 Milan to St. Tropez
€6,950 | 60′
Rome to St. Tropez
€9,250 | 80′
London to St. Tropez
€9,250 | 80′
Geneva to St. Tropez
€6,750 | 50′
Paris to St. Tropez
€7,750 | 90′
Lyon to St. Tropez
€3,150 | 45′
Vienna to St. Tropez
€10,850 | 120′
Zurich to St. Tropez
€9,550 | 75′
Barcelona to St. Tropez
€7,950 | 75′
Berlin to St. Tropez
€12,050 | 120′
Saint-Tropez is, since the late 19th century, the favorite destination in France for luxury travel. This beautiful headland sets itself apart with its superb restaurants, private beach clubs, olive groves, luxury yachts and delightfully old-town aesthetic.
If you search for a very local experience, pack a fine picnic lunch in one of the best restaurant of the city and take a walk on the Sentier du Litorral. This windy and rocky path is a step outside La Ponche and goes all around the peninsula.
Saint-Tropez litoral has plenty of beautiful beaches, such as Pampelonne and Ramatuelle beaches. Ensconced by scrub-stubbed dunes and the glistening Mediterranean, this 5km stretch of sandy white beach has many sposts for sunbathe, swim or just relax.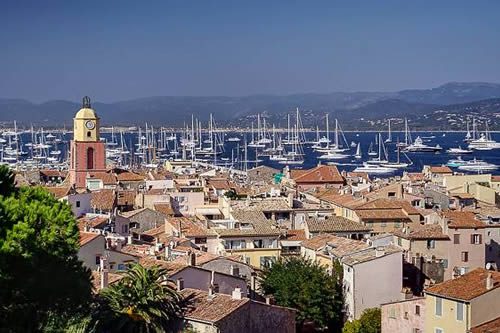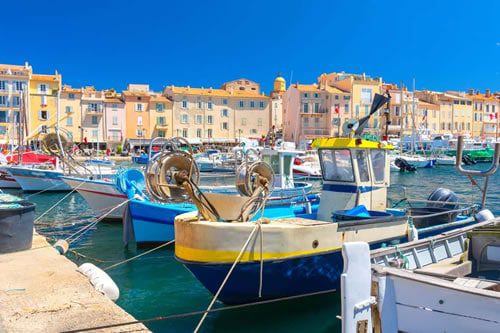 It is back in 1946 that Saint-Tropez started to develop its reputation as one of the most-sought jet-set destination for actors and VIPs. And today things haven't changed, the city still attract stars, especially during the Cannes Film Festival.
Saint-Tropez, with his beauty, was location for some iconic films such as 'And God Created Woman' (1956) and 'Le Gendarme de Saint-Tropez' (1964).
For wine lover the town offer his best wines at Chateu Barbeyrolles, take a visit to the Chateau Barbeyrolles Vineyard Winery and taste the award-winning wines, rosé, red or white.
Best Hotels and Restaurants
For an all day taste of gourmet bites, patisseries and pastries enjoy La Table du Marché, a few steps from the old port. This venue, owned by chef Christophe Leroy, is both a gourmet bakery with a tearoom and terrace and a modern bistro. Spoil yourself a little with gastronomy in La Résidence de la Pinède, a three-star Michelin restaurant owned by chef of the year (2013) Arnaud Donckele. The restaurant serves elegant, world-class French cuisine, instead at La Terrace you can indulge in extravagant sandwiches and main courses at La Vague d'Or.
For a perfect escape to Saint-Tropez, nothing better than stay at Cheval Blanc maison. While this exclusive hotel is ongli a 13 minutes stroll from the port, it feels like a remote escape. Alternatively you can join Hotel Sezz, a luxurious five star design hotel. This peaceful oasi is just a few kilometers from the town center and let you relax in a natural oasi.
Your exclusive experience in St. Tropez
We can make your trip a remarkable fully immersion in St. Tropez. We offer booking service to the most luxury accomodation, transfer planning from/ to the hotel and making reservation for restaurants and other entertainment.
Plan with us your next luxury trip to St. Tropez.